Our Investment Philosophy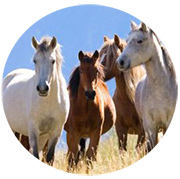 RMHI was founded to meet the real needs of ethical investors for a Sustainable Investment Philosophy. We offer solutions unavailable in the mutual fund industry.
RMHI Investment Selection Process
Vegan Investing Does Not Have to Mean Poor Returns
Based on our years of experience with investors seeking socially responsible investing alternatives, there's a good chance you've come to our website with a little bit of frustration. Many financial planners and other investment advisers will tell you that, to invest effectively, you'll have to choose between giving up your beliefs or giving up good returns in your investing. If that's the case, then we should be a refreshing alternative for you. Neither of those concepts are accurate. Not only do we cater exclusively to Socially Responsible Investing, we also include Vegan Investing screens. In addition, you can see that the performance of our portfolios does not represent giving up good returns at all.
Our social screening history dates back to 1990 as a broker with A.G. Edwards and Sons in Nashua, NH. Brad Pappas was active in giving lifetime homes to dogs in need of rescue. During this time, he was the first investment professional in the U.S. to create the concept of "Cruelty Free Investing". He did this by avoiding investments associated with animal cruelty. Since then, he has made a lifelong commitment to Cruelty Free Investing and expanding the concept to Vegan Investing screens.
Rocky Mountain Humane Investing, Corp. was founded by Brad Pappas in 1995. RMHI is the first and only investment adviser in the US that focuses exclusively on the needs of the humane/environmentally and Vegan oriented investor. This ethical approach to investing is also commonly referred to as Socially Responsible, environmentally friendly, sustainable, cruelty-free or green investing, as well as Vegan Investing.
Currently, we screen and eliminate the following industries:
Animal Testing (including Biotechnology and Pharmaceuticals)
Animals as Entertainment
Companies with significant environmental issues
Factory Farming
Weapons
Extractive Industries (oil and gas, mining, timber)
Tobacco
If you would like to see live examples of our Vegan Growth Portfolios and their performance history, please visit our home page and click the links to Collective2.com. We also include a monthly update of the VGP performance, accessible via our website: Request Access to VGP Model Data.
Socially Responsible Investing can be very effective using individual securities
Several studies show that a portfolio with over 20-30 holdings is enough diversification, while exceeding 30 holdings loses the advantages of diversification. Many mutual funds own several hundred. This means there is a high percentage of holdings that are owned merely to soak up capital raised by the fund. These holdings are either losing money for the fund or merely going nowhere. In our portfolios, we attempt to have every holding contributing to portfolio growth. Since your money is not co-mingled with thousands of other investors, there's no need to own positions merely to be considered fully invested.
In addition, approximately 90% of growth oriented mutual funds lag the performance of the Standard and Poors 500 Index over extended periods of time. This lag has caused many of them to abandon stock selection. Instead they focus on mirroring the S&P 500 while still charging the higher fee associated with Growth Funds. In our opinion, a higher fee is worthwhile only if the portfolio performance exceeds that of the S&P 500. We continually monitor performance to make our fee worthwhile.
A look at our Vegan Growth Portfolio performance can be viewed via our page: Request Access to VGP Model Data