Over the past several weekends I've been looking into developing strategies that could maximize return in a relatively flat market.  While its true that the major indices broke to new highs only a month ago, meaningful confirmation of what could be a new leg up has not materialized yet.  Plus, I'm a bit concerned about the upcoming election and the potential for chaos, not unlike 2000.
The point of this blog entry is to show a technique that would identify low risk/great entry points for the equity investor to be 100% invested.   Other than these time periods the investor should be less than 100% invested.  I fully realize this goes against many traditional investment tenets but in our testing those tenets of being 100% invested at all times don't hold to be worthwhile.   After all, if you're already 100% invested how can you add to your holdings on a market pullback?  At worst, the gains you may have realized in a rally are going to be at least partially dissipated during an eventual sell-off.
Technique: % of Nasdaq 100 stocks above the 50-day moving average
This first chart shows the Nasdaq Composite over a 5 year period moving in a range between roughly 80% above the 50-day moving average to below 20% below the 50-day moving average.   Ideally a client should begin to move from underweight stocks to fully invested when the % drops below 20%.  Likewise begin to lighten up your investments on a rise above 80%.
One of the great advantages to this technique is realizing that market sell-offs are inevitable whereby your state of mind actually looks forward to market declines as its means the start of a new profit cycle.
The final average rate of return after two months (40 trading days) is 8.45%.  On average as you can see there have been 9 events in 5 years.  Not too bad.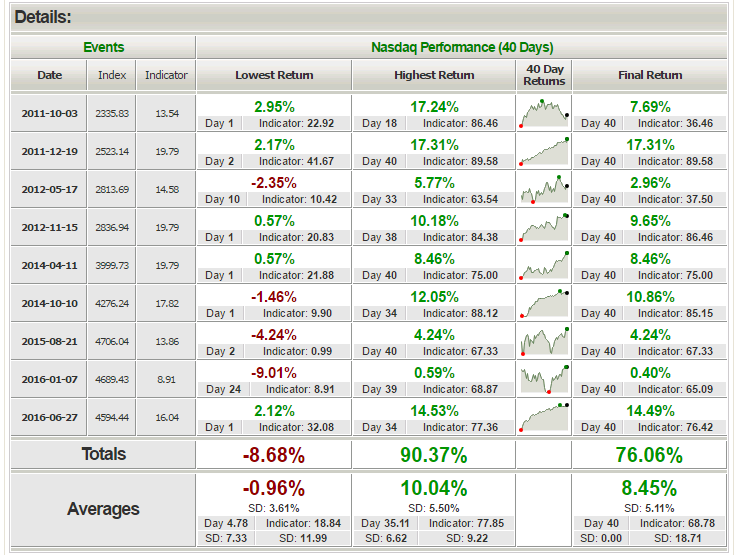 For the sake of comparison here are the results of remaining invested past the 80% mark for two months.
The average rate of return drops from 8.45% to 1.61% and the average peak loss rises from -.96% to -2.93%.
Summary:  I'm not advocating an all or nothing approach to being invested or not.   I am suggesting that it may be smart to only be fully invested when the odds of a good return are very high in your favor and to pare back when not.
There will be many stocks that will continue to push higher even though the market is overbought and those super strong stocks are to be held regardless of the state of the markets.
What I am suggesting is a middle ground approach:
At 20% be 100% invested
At 80% begin to pare off laggards and losing holdings, plus place tight stop losses on your winners.   Markets can stay overbought for a while and many stocks will continue to rally but its not a time for new buys.   Eventually the markets will begin to roll over downward and using tight stop losses will protect your gains.  If by the time the cycle bottoms at or below 20% again, if an investor has approximately 40% of their holdings in cash they'll be sitting pretty for the next move up.
Cheers,
Brad Pappas
970-222-2592