Euphoria in the air
12/15/17
Quick Summary: So much for the consensus opinion of being in a "low return environment". November was a terrific month that brought back some memories of 1999 when Tech stocks rocked higher every day. In my opinion there was a bit of euphoria in the air as so many of our stocks either went parabolic or increased their angle of ascent above 45 degrees.
There is the potential that we will see a shift in stock sectors in 2018 from Growth to Value but it's really too early to tell. Since mid-November it seems all the sectors and groups that lagged this year are playing catch up while the winners move sideways.
Odds of a recession starting in 2018 are very low and most data points to healthy growth once again for the coming year. The Fed will be stepping up their rate hikes in 2018 which is giving traction to Treasury bonds and I'm focused to see if any rise in the price of Treasuries accelerates. If that's the case then Treasuries will be essential in 2018.
As I can tell there are two points of concern coming into 2018: Investment sentiment is too high. This sets the stage for a reversal and correction at some point next year. The bull market will be another year older which increases the chance for pullback in 2018. The Bitcoin craze is an example nutty hysteria as there are now stories of people mortgaging their homes to buy more crypto currencies.
The second concern is the status of the North Korean issue. Markets have been very calm in the face of the tension as the largest institutional investors believe some deal or Treaty will eventually evolve.
Growth versus Value
Growth Stocks have had a great year relative to Value stocks in the last year. But recently Growth has broken its upside trend line as it declined sharply relative to Value. Markets never make it easy for anyone and those who think just owning Amazon, Facebook and Google constitutes a good "buy once and forget" may find their portfolio adrift going nowhere next year.

Tech stocks have not given up their leadership completely just yet but I've moved to a more balanced industry portfolio spread across more industries this month.
Our biggest winner of the year was symbol "BABA" Alibaba Group Holdings which we bought in January and sold recently. The chart shows how BABA shares have made little progress since August despite a very strong Nasdaq. The stock is showing signs of distribution as large investors started selling in early November. Recently it broke through its 50 day moving average. Investors seem reluctant to defend the stock on any selling so we took our profit.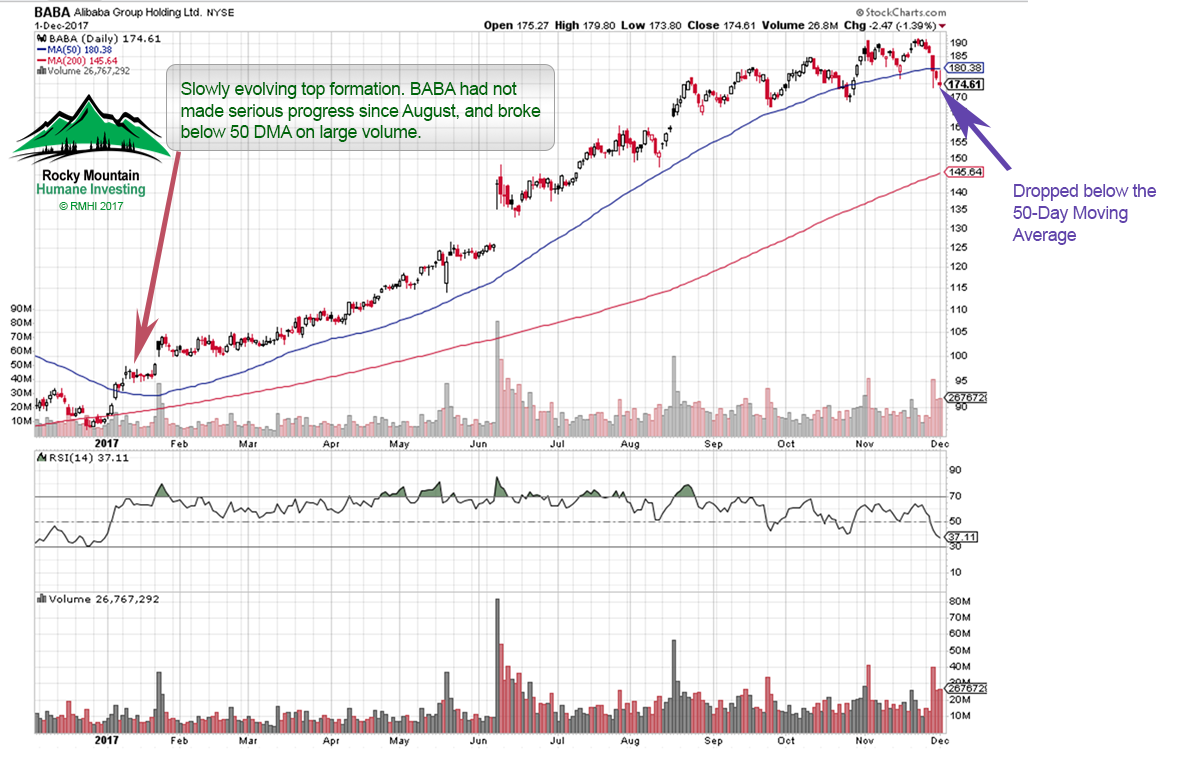 I do have a rule regarding investments that move higher to a parabolic degree. Parabolic moves are unstable and prone to sharp reversals. This was the case with Square which was another good winner this year. But the stock turned on its booster and went parabolic in early November and we sold in the $46-$48.

One of our losing positions in November was Micron Technology which we bought in the $48 range and sold at $40. While it has since rebounded a bit I'm still very suspicious about the near term of Semiconductor stocks as they've had a great run.

Nothing since the crazy Dutch Tulip Bulb craze have we seen anything like Bitcoin. If Bitcoin does collapse from its parabolic hysteria the losses could be epic. I must be the only person who has ever been stopped out of GBTC but the problem is that Bitcoin trades 24 hours a day. This means that stop loss orders on the Nasdaq for GBTC could be almost worthless in keeping losses small. We could have a stop loss order to keep a loss at 5% on the Nasdaq but since Bitcoin trades 24 hours a day the opening price for GBTC could many multiples of 5% up or down. With undefined risk I won't trade it.
That's it for now. I wish you all the best of the holidays and a prosperous 2018.
Brad Pappas Brad@greeninvestment.com