Hello All
A quick update as to the happenings of the last week and a half and what to expect going forward.
Paraphrasing Mae West's "Too much of a good thing…is a good thing", until it isn't. In my early January letter I mentioned two events to look for: 1) a rise in interest rates and 2) the bursting of the low-volatility bubble. I wouldn't have expected for both of them to come to fruition within a matter of days but that's what happened.

The stock market vaulted into Parabolic mode in January and that's a great thing until the music ends but by last Friday I had seen enough. On Friday 1/26 I began to sell heavily and adding the first round of what I expected to be a good "hedge". The following Monday I sold off more holdings and increased our hedge to approximately 10%-15% or so of account size. I suspected the end of the parabolic rise or the market top was close, but it literally was those two days of selling.
The "Hedge" I utilized and as seen in your position statement at IB or Schwab is the "VXX" which is an exchange traded note based on the volatility measure known as the VIX. The VIX and VXX rise as market volatility rises. And, as a rule market volatility almost always rises as markets sell off. Since volatility had been declining for almost three years we were finally due for its return. I'll never be known as a patient person but I had been sitting on this VXX trade for about six months. The Low-Volatility trade got so stupid that on my collective2.com platform there were people developing Low Vol trading accounts called "10% per month". They must be kin to the Bitcoin "millionaires". Eventually all things financial revert to their mean averages and volatility is no exception.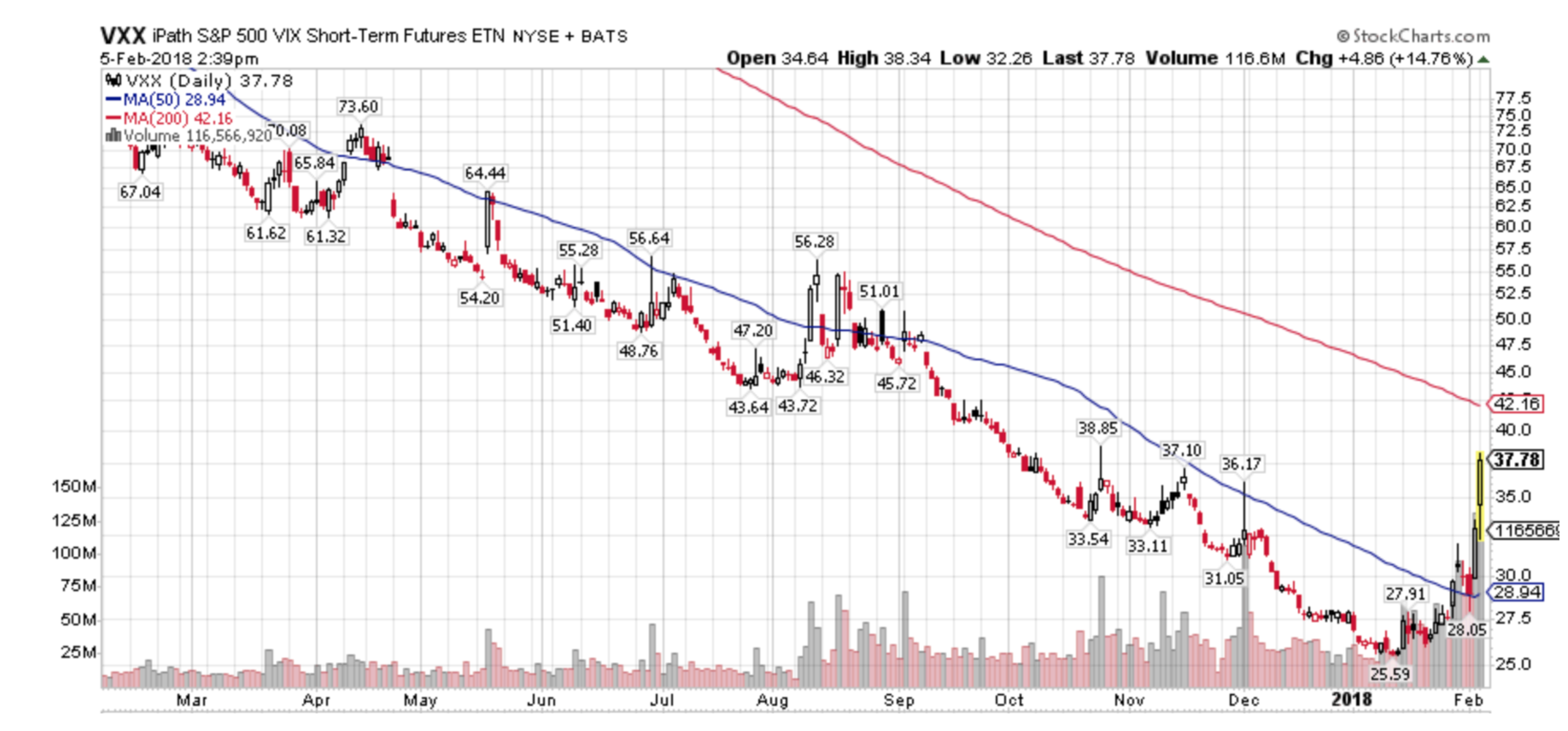 Last week I began buying the VXX in the $27.5 range and the close today was at $32.18. Today I sold approximately 25% of our hedges / VXX at the end of the day in the range of $31 as I expect a wicked bounce higher next week.
February 5 update: Another very steep decline today. I saw -1500 on the Dow at one point. We haven't seen than in a few years and I sold off another layer of VXX into the abyss. These are the golden moments to lighten up on our hedges since the VXX price will drop sharply in a rally.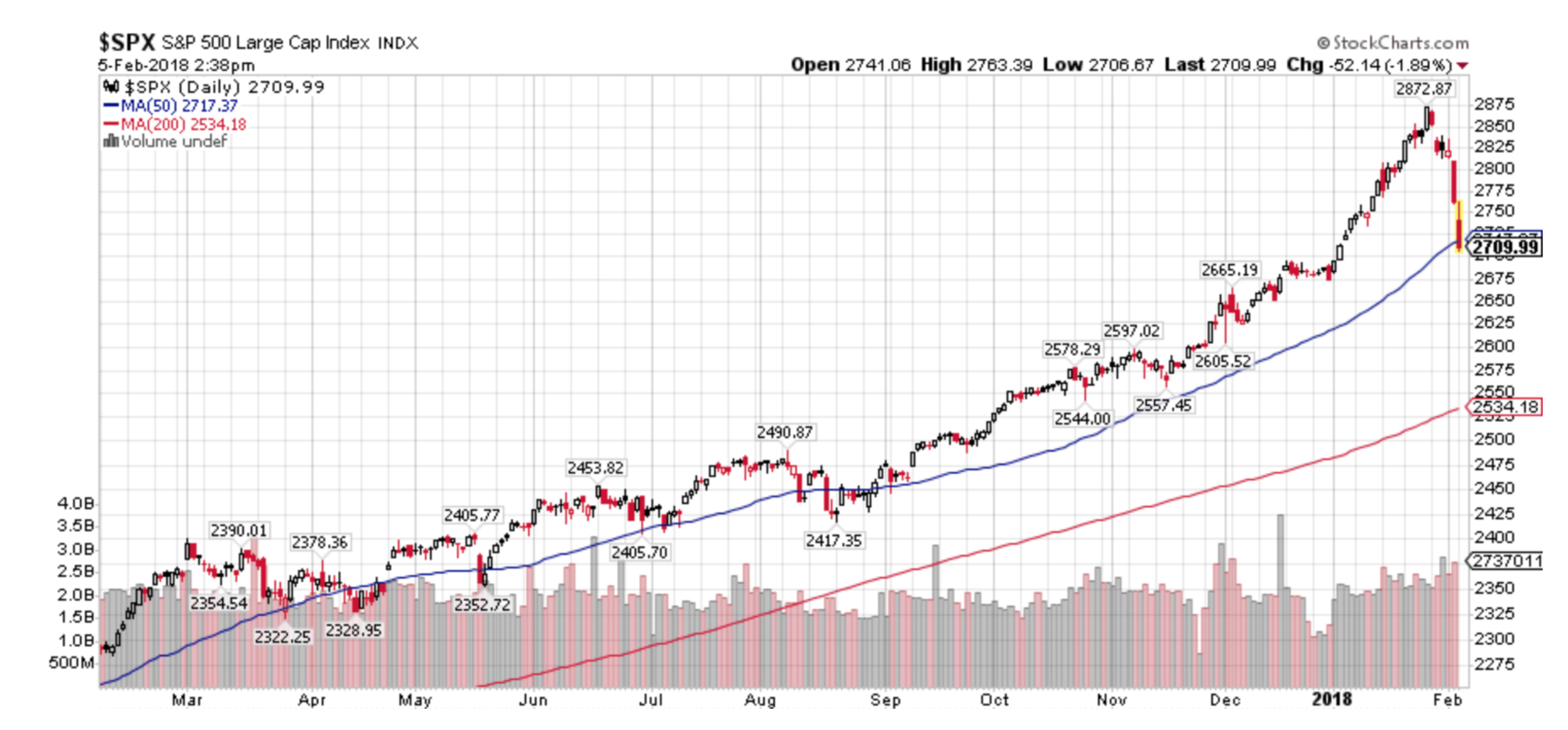 All in all, the rise in the VXX has been more than enough to balance off any losses in our remaining holdings. This morning's weakness was expected as the retail investor tends to panic over the weekends and frequently sells at any price on Monday mornings. But this afternoon's selloff looks like pure panic. Markets tend to make bottoms during moments like this.
So far nothing I've seen leads me to think the long term bull market is over. The damage being done now will generate a great deal of fear and selling which will be the fuel for the next leg higher in this market. I do believe we'll revisit the highs by the end of the year unless there is a total breakdown in prices and trend. We'll need to see a lot more selling and weakness to break the long term trend.
For the balance of the week I do expect at least a couple days of strong rallying which is why I continue to slowly sell our VXX into more weakness. These will be simple knee jerk rallies that don't mean much. The market bottoming will be a process of market rally's and sell offs that could take upward of a month or two. There is no need to rush back and buy stocks at this point.
Best of all, we're sitting on a very large amount of cash in all accounts ready to buy at the right moment. One of the biggest values of proper hedging is the calm it can create which allows for clear thinking in chaotic markets.
Cheers,
Brad Pappas