Markets
Shifting

Back

To

Growth

 

May 25, 2021

Apologies for the delay in writing this draft. If the facts are in the midst of changing I prefer to hold my thoughts until I'm more confident to admit them to paper.

When markets are acting healthy the majority of our gains will come from Growth stocks with the Nasdaq Composite Index. In just this calendar year we've had two Sell signals on the Nasdaq. Both Sell signals had meaningful follow through which offers at least some meaningful satisfaction. But I sure would like to see a follow thru rally last for longer than a couple weeks. All in all, this creates a very choppy environment more suited to trading than intermediate termed investing.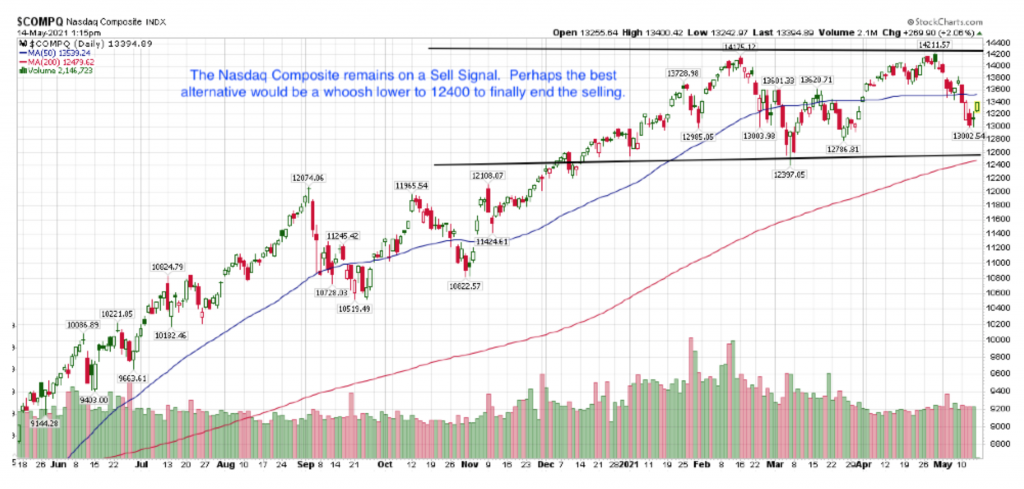 The cause for the choppy markets has been the rise in interest rates of long term bonds. The bond selloff has been precipitated by a significant boost in commodity prices and inflation plus the Federal Reserve's current policies. The Fed's current overly generous policies are more suitable for an economy deep in recession and not for an economy with short term GDP growth of 8%.
Rising interest rates are toxic for Growth stocks. See the 40% decline in the ARKK Etf which has been a benchmark for ultra Growth companies.
A week ago, the inflation and commodity debate appeared to hit a peak with Stanley Druckenmiller's editorial in the Wall St. Journal and on interviews with CNBC. If you're not familiar with Mr. Druckenmiller, he is someone worth following. Extremely well- deserved reputation and his opinions appear to have struck a nerve at the Fed.
https://www.cnbc.com/video/2021/05/11/stanley-druckenmiller-fed-policy-criticism-us-economy.html
The current Fed monetary policy as stated by Chairman Powell is to not consider raising short term interest rates for another "31 months". As I mentioned earlier this stance is inappropriate currently and could lead to a significant long term boost in inflation a' la 1970s.
Since Mr. Druckenmiller's editorial two members of the Fed Board of Governors have mentioned the need to address raising short term rates this year. All markets got the message clearly and while its early- it appears long term Treasury bonds and prices have steadied, Growth stocks have halted their decline and may be in the process of turning higher.
While rising interest rates are toxic to Growth stocks, falling or steady interest rates can be a tailwind. It's early but Growth appears to have put in a bottom and is in the early stages of moving higher.
I can't tell you exactly why cycles tend to work more often than not. But I've been following NDR's cycle research for over 20 years. As the chart shows the Month of May can be rough. Rough markets can generate a great deal of fear and rid the market of complacency. Fear is a necessary factor for markets that bottom and eventually turn and rally.
But looking out to the Fall of this year, markets could make a steep decline based on the chart below. This could coincide with the Fed pulling back from an easy money policy with accompanying bond and mortgage buying.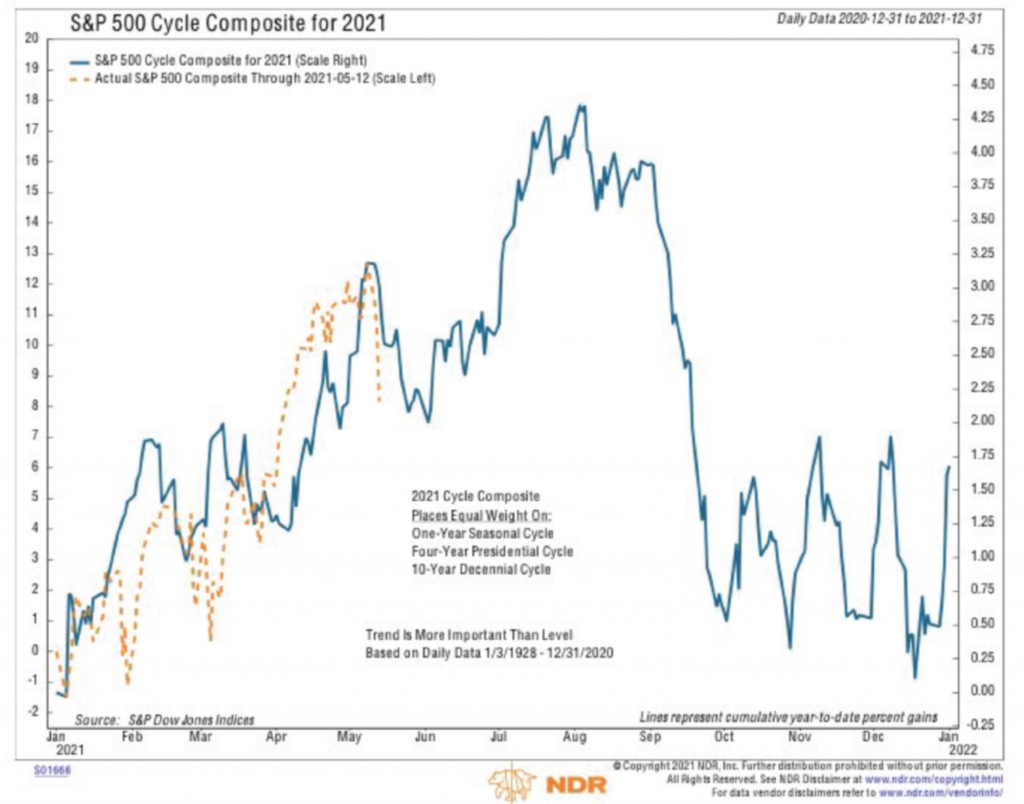 Speaking of fear and its role in investing: Fear is an inverse indicator. Investor sentiment is not accurate to a pin point degree but it is a factor on a weekly to monthly basis.
The NAAIM Exposure Index which measures stock market exposure by active money managers is a good inverse tool. I try to do the opposite of whatever their level of exposure is. High exposure is negative and low exposure is positive for stocks.
The NAAIM chart is the top section of the chart below. The members tend to be highly invested at the top and have much lower exposure near market bottom. This is human psychology and behavior repeated over and over again.
Invest up to your eyeballs when confidence is high (which means you're a market genius) which means you've just experienced a good rally. At market bottoms investors are disgusted and afraid. Hence, they chase the inevitable rally.
This week the NAAIM data is at 44.21. This is the lowest it's been since March of last year.
Of course there is no assurance it won't go lower if more market weakness occurs but its one of the primary reasons I began increasing market exposure to Growth stocks.
Some thoughts about Inflation
Is the current ramp in Inflation permanent or transitory? IMO Inflation has been with us a long time despite the official government data.
From Shadowstats I've posted below Inflation stats based on the 1990 method and by the 1980 method. The Fed has altered the formula for how they calculate inflation to produce a lower level. At minimum this is a conflict of interest for Social Security recipients.
Our positions in Gold, Silver and Coinbase are more of a reflection on the Fed's debasing the $USD which will lead to inevitable problems. Druckenmiller opines that we could lose our Reserve Currency status within 15 years.
Gold and Silver are obvious choices to hedge against inflation and currency risks. Bitcoin is one as well but its so volatile that by the time you pick your groceries out at the market the price will change by checkout time.
The recent rout in Bitcoin and the inept IPO of Coinbase shares offers an opportunity. While Bitcoins cannot be counterfeited, theres no stopping someone from creating a completely new coin day after day.
By owning Coinbase we don't need to care about whichever coin is hot this minute. We can own the bitcoin exchange. This is back to owning the hardware store in the 19th century gold mining days rather than mining for the gold.
This morning 5/24 Goldman Sachs upgraded Coinbase with this following note:
Coinbase initiated with a Buy at Goldman Sachs MAY 24, 2021 ' 04:56 EDT
Goldman Sachs analyst Will Nance initiated coverage of Coinbase Global with a Buy rating and $306 price target, which represents 36% upside from current share levels. The company offers leverage to an ecosystem that has seen "strong growth" driven by increasing adoption of digital currencies, a leading consumer platform with "strong" customer acquisition trends, an "attractive business model that thrives on elevated cryptocurrency volatility," and "significant opportunities" to add additional features and capabilities, Nance tells investors in a research note. The analyst sees "significant white space" for Coinbase's new initiatives to drive more stable and recurring revenue streams.
Our average cost for Coinbase is approximately $234.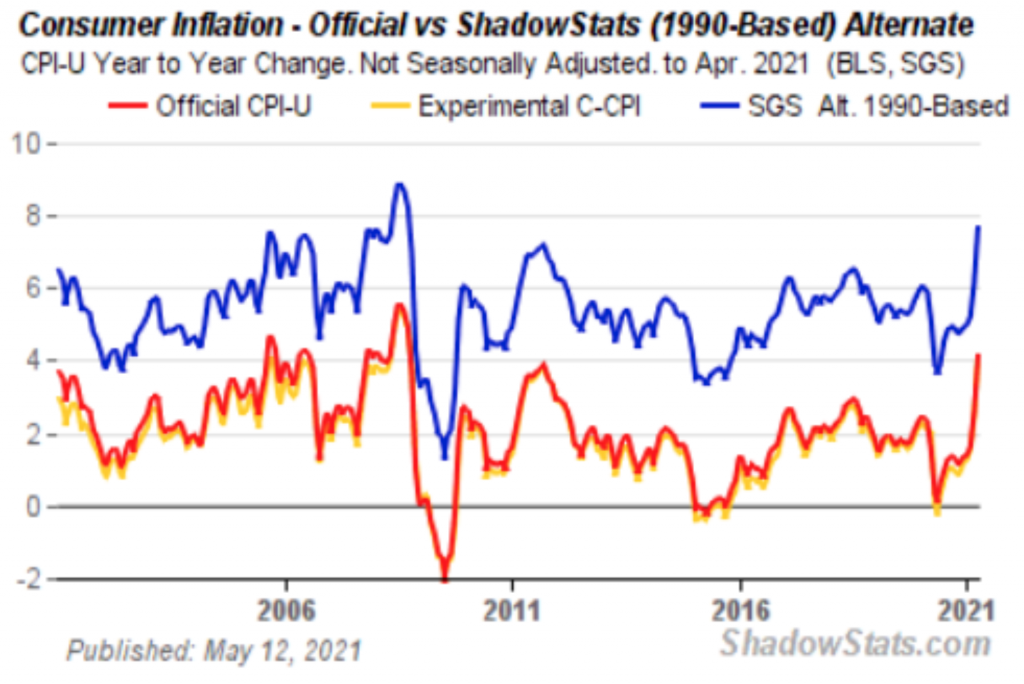 The CRB Index below is produced by the Commodity Research Bureau and is a composite and is a reflection of price trends in commodity markets. Just another way of looking at rising inflation.
One year ago it was 131.62 and stands at 200.87 today.
Stanley Druckenmiller's Op-Ed in the Wall St. Journal titled "The Fed Is Playing With Fire"
The American economy is back to prerecession levels of gross domestic product and the unemployment rate has recovered 70% of the initial pandemic hit in only six months, four times as fast as in a typical recession. Normally at this stage of a recovery, the Fed would be planning its first rate hike. This time the Fed is telling markets that the first hike will happen in 32 months, 2½ years later than normal. In addition, the Fed continues to buy $40 billion a month in mortgages even as housing is clearly running out of supply. And the central bank still isn't even thinking about ending $120 billion a month of bond purchases.
Not only is the recovery happening at record speed, excesses of fiscal policy are already visible. Consumers are spending like never before, construction is
booming, and labor shortages are ubiquitous, thanks to direct government transfers. Two-thirds of all relief checks were sent after the vaccines were proved effective and the recovery was accelerating. Opportunistic politicians didn't let the pandemic go to waste. Especially after the Trump years, Congress has decided to satisfy its long list of unmet desires.
Summary:
Investors should anticipate the Fed shifting from an overly accommodative policy to one of more restraint. Until recently this was not a topic of public conversation by the Fed, but it is now.
By no means is this the end of the world for stocks. It just means there is likely to be a sizable pullback when the Fed shifts gear. I would expect this to be in the vicinity of November of this year. But markets will begin to adjust to this change before then.
The NDR cycle chart is potentially an accurate time line of when and what to expect later this year. To be frank, I would really like to have a good sell-off, which I'd hope to avoid. As this would be "the Pause that refreshes".
In the meantime we may be moving past peak-inflation which is why Treasury bonds prices have turned up. In turn, this is causing Growth stocks to rally.
A normalization of interest rates could likely mean a return to the value of Active Management. Active managers with effective systems can potentially avoid sharp sell-offs that would leave Index investors exposed.
Thank you,
Brad Pappas
May 25, 2021