In the last letter sent 9/28 I mentioned the possibility of a Buy signal as it appeared the September selloff had run its course.
This is the chart sent on the 28th that showed the Nasdaq beginning to bottom out.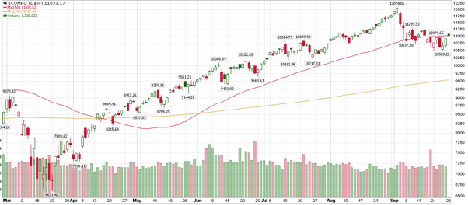 A Buy signal did occur in the first week of October and we can see from the updated chart below a continuation of the 2020 rally.
Not only are the markets moving higher – they are moving higher with very strong breadth. This generally implies that this rally is an initiation of a new leg higher in prices with sustainable strength.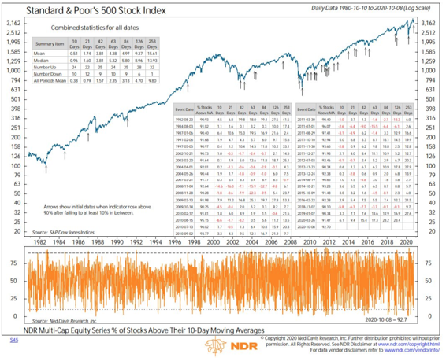 One should never allow politics into the investing matrix as it reduces your objectivity.
As in most instances when there is significant negative headlines – the negativity is already baked into the market. Hence more negativity has little effect.
It seems to me that about the time Trump polling began to disintegrate investors began to front-run a Democrat win for the Presidency and Senate. So companies that would benefit from a Democrat monopoly are moving higher and with ludicrous speed.
Looking at our holdings they are the "Greenest" ever.
For example:
Electric Vehicles: Tesla (TSLA) and Workhorse (WKHS)
Alternative foods: Beyond Meat (BYND)
CBD's: Innovative Industries (IIPR) and Growgeneration (GRWG)
Solar: Soleredge Technology (SEDG) and the Solar ETF (TAN). I'd like to add Sunrun (RUN) if it will just give us a decent entry.
Market leadership is obvious at this point and its a new generation of market innovators and disruptors.
What is absent is the old leadership of Amazon, Apple, Facebook and Google. It would be my expectation that Democratic control would bring about potential Congressional legislation and oversight. While that would be years away should it occur investor capital prefers to focus on a new generation of winning companies.
Be Well. Be Kind.
Brad Pappas
September 28, 2020
Long all stocks mentioned except RUN.